At Sunshine Coast Agistment we offer unparalleled trail riding, and agistment.

All the horses have a close up inspection twice daily and have 24 hr supervision.

Our low agistment fee includes any level of care you desire, plus we supply at no extra charge to your horse a mineral, calcium and phosphorus mix in a chaff/copra mash for all their supplementary needs twice weekly.
Our paddocks offer excellent grazing and improved pasture, plenty of shade, fresh dam water and safe electric fences. Dog netting fences for miniatures.
Access to safe & stunning trails straight out the gate.
Please give us a call 0402 806 939 or email for further details agistment@awebsite.com.au
Location of our property below: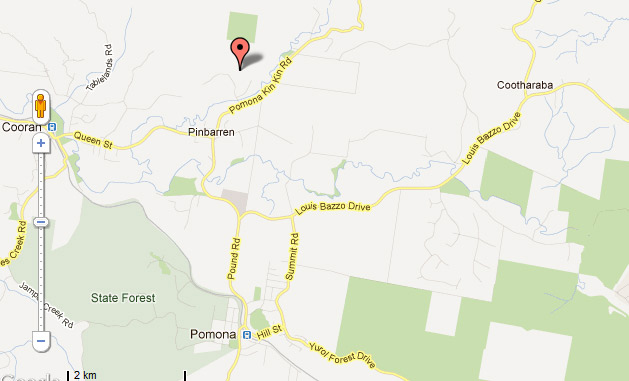 more information
The horses here are happy , they get exercise at play running around with mates and enjoy the security of small friendly herds. We allow 2 + acres per horse to ensure no over grazing occurs.
The horses are healthy because they get good constant nutrition, a cool refreshing swim in the dam, kind companionship, as all out horses are quiet, and ample shade and shelter.
We ride regularly, and invite you to accompany us (free of charge) on our rides through state forests, for a pub lunch, across mountain ranges, rain forests, and along the beautiful Noosa trail network. Free maps are available so you can enjoy the trails yourself without getting lost.
Our facilities include a tack room and feed shed, a caravan serves as a lunch room with tea facilities, parking, an out door arena, round yard and private access to paddocks.
With more than 25 years experience with horses, we can offer your horse full care if necessary. We offer occasional or full feed, and we can supply your horse's feed (Prime shedded hay, mixed lucerne grassy hay and hard feeds) at well under Sunshine Coast produce store prices, with the buying power of all our agistees together. Usually we save anywhere up to $3 on a bag of feed.

We use several experienced farrier who will hot or cold shoe, or your choice of farrier.
We have a local vet (Stuart Bryce) who specialise's in horses less than 5 minutes away who charges no travel costs to visit your horse. He also provides dental services and uses a power float to give your horse's teeth the ultimate finish.
We can worm, trim, shoe, float train, exercise, rug, attend minor ailments, or invite a dentist to attend teeth on your behalf if need be.
We can transport your horse. Transportation to our facility is free from the Sunshine coast for long term agistees. There is a small fee for fuel from Brisbane.
We email you monthly reports and costs, and for our distant agistees we email photos of your horse/s.
There are various riding events in the area that we frequent and invite you to join us, for example The Kin Kin Trail ride, Kilkivan, Imbil, & Kandanga 1000.
Occasionally our agistees have horses they want to sell, so check out our notice board (Click for more info) This site is free for our agistees to advertise their horses or gear.